El Dorado, is what we call our new home. What was once The Wild West, has turned into The Wild Wild West. The End of Days has dawned upon us, and no longer can we rely on the good nature of what once were good folk. Hell, the only civilized places left on all of creation are locomotives built with The Devil Himself in mind. However, that don't mean the rich folk gotta live with us. They got themselves these walking towers, with giant legs of steel. They keep close to the towns, and walk beside them like giant spiders of stone and wood.
They look like they're about to fall over at any moment, but they never really do. That is, unless some Abomination knocks it over. You didn't think this was going to be an Apocalypse by Man, did ya'? Yeah, sure. Man was the reason The Dead came back, with hell-spawn at their side. Man was the reason the waters of Earth dried out, and were replaced by seas of fire where The Damned go to bathe for all of eternity. Little Ricky said he saw his ol' pop down by one of the lakes, screamin' in agony, beggin' for him to help.
That don't much matter now, it's common and it's the life we live today. Some of those scientist folk came up with a sorta' concoction, alternative water. It's kind of like powdered milk, y'know? Well, the concept at least. It ain't real milk, but it gets the job done. Now, Water ain't powdered. It's kinda gooey, and goes down like you're drinkin' slime. Sounds disgusting as shit, don't it? Well, you wouldn't believe me if I said it's become one of the most valuable resources in all of El Dorado. Bandits ride up on their horses, right beside a Town, just so they can steal the shit for themselves. It's like Train Robbin' x10. They mostly come in hordes of hundreds, so that they could take over those long ass trains in one swift go.
Folk on them trains tend to dress a little bit fruity, mostly because the rich folk in those towers BESIDE their homes give 'em more 'suiting' attire. Women dress like peacocks, and men dress like your neighborhood dandy. I suppose they do it for morale, better to keep your head up in times like these. Just about everyone has themselves a six-shooter, and Lightning Slinger.
I suppose you could use a Lightning Slinger on your average Bandito, but it's a bit overkill. Primarily, Lightning Slingers are used on Abominations. Stuff like your Undead, your Big Foot, your Demons, your Hell Dogs... Lightning is the only thing that can kill them. One of them Scientist Folk put it together after watchin' a Giant be struck by lightning, saw him go down like a bag of rocks in a lake.
Apparently, it wasn't no light, or fire that was holy. Instead, it was lightning. Who'd have thought, huh? The Abominations don't seem to notice the difference, what, between Natural Lightning and Man Made Lightning. Rumor has it, though, that we do.
You may be wondering; "If Lightning is Holy... What happens to people who are struck by it?" By natural lightning, at least. Apparently, if you're struck by lightning, from a regular old storm, then you've been blessed by God himself. You're given the power to defeat Satan and his unholy spawn, kind of like a hero in them old adventure books. The stuff courses through you like righteous power, I've seen a guy blessed myself. He's constantly crackling, and there's this blue static-y light makin' his veins shine.
People who're blessed tend to run raids on Old World Settlements, stationary towns that were once populated by us humans. What they do is lead folk from Trains, and collect supplies and necessities while fightin' off The Devil himself. I've only ever been in one, and I can tell you right now that fightin' in those raids will give you nightmares. It'll also be the most fun you ever had.
Speakin' of The Devil...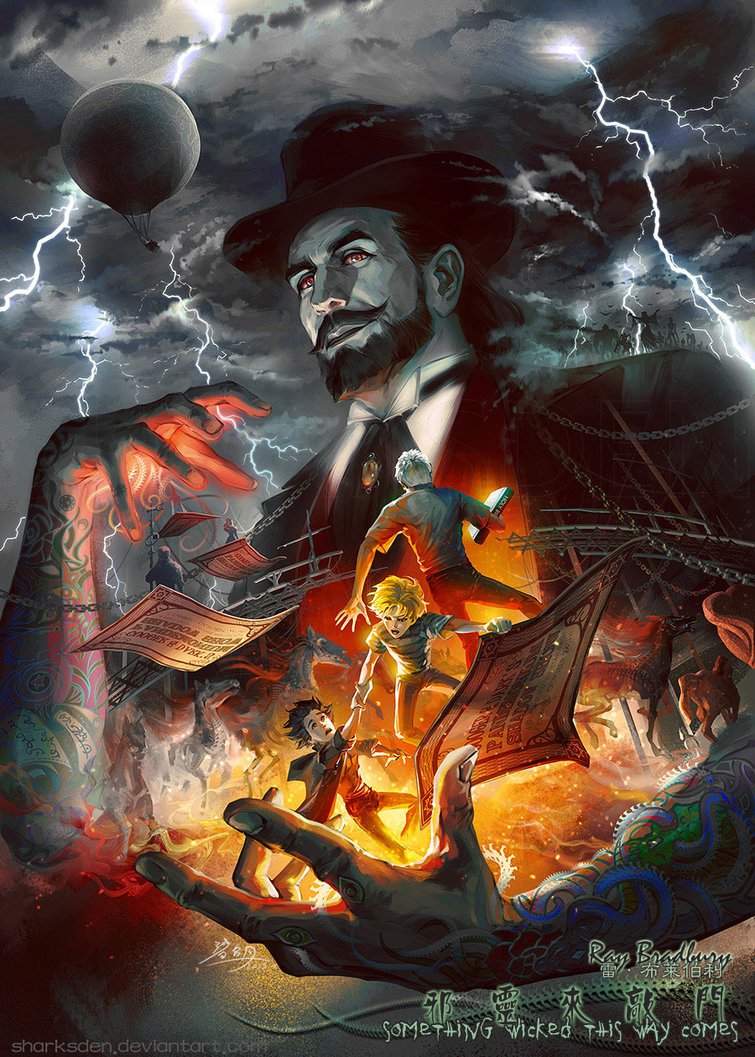 He's got himself a train too, calls it The Night Train. I've seen that too, met The Devil as well. He ain't like his minions at all, listens to reason. He'll try to strike up a deal with you, sayin' he'll give you power like those blessed by God. It doesn't take a genius to realize that The Devil is building his own "Blessed" army. He lets simple folk on The Night Train, and it's kind of like some twisted Carnival. He's actually quite the showman. The Devil'll even let you off, if you don't accept his deal. However, you'll be a prime target for his minions after that day.